Shopping Cart
Your Cart is Empty
Thank you for your business!
You should be receiving an order confirmation from Paypal shortly.
Exit Shopping Cart
She who is centered in the Tao
can go where she wishes, without danger.
She perceives the universal harmony,
even amid great pain,
because she has found peace in her heart.
Music or the smell of good cooking
may make people stop and enjoy.
But words that point to the Tao
seem monotonous and without flavor.
When you look for it, there is nothing to see.
When you listen for it, there is nothing to hear.
When you use it, it is inexhaustible.

Instructions: Click on the links to take you to each topic page.

1. Visit 4 art exhibits in SecondLife that specialize in different styles
A. Steam punk
B. Classical art
C. Photography
D. Sculpture
2. Submit a notecard to Okaasan with the name of the exhibit, landmark location, your name and date. Choose one artist's piece in each of the four art exhibits and explain why you liked it - or didn't like it. So your completed card will include critiques on four SL artists.
3. Put a brief note in the forums that describes your favorite item in this lesson.
PLEASE OBTAIN PERMISSION BEFORE
ADVANCING TO NEXT LESSON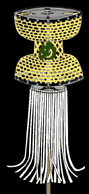 0

/